又是一年又一個露營的季節,大家開左季未? 夏玩至秋裝備列表分享,這個主題的文章很久沒有分享了,也又是一篇夏季早應發佈的文章,這次的裝備選沒有特定主題,各人各有喜好各有主題,看完你都分享下你的玩樂裝備列表吧,因為沒有太多的時間去整理,如有不明白再為大家解答,再謝謝各位一齊玩既友人。Enjoy
By TwinSshh: 
Macpac Mountain Marathon Backpack || Moss Cycloid Tent || 衫褲(紅袋) || Therm-A-Rest Neo-air Trekker || 中式枕頭 || Nalgene 1L || Radio || Ti-hammer || Ti-stakes || 風檔 || 燈 || 刀之類 (綠袋) ||  Snowpeak 地爐 & 食具 || Snowpeak Trek 900 || Snowpeak gas || MSR 6L 水袋 || 5Dmarkii || 50mm 1.4!
By Bee:
背包: Haglöfs Matrix 50(Old Version)營: Oztrail – Photon睡墊: Exped – Airmat Basic 7.5枕頭: Exped – Pillow Pump睡袋: Silk Travel Sheet爐 : PackaFeather XLCookset: Backcountry Titanium 1100ml酒精 , 打火機彩虹風擋Cup:CHUMS Camper Mug Cup (Beige / oak)摺疊木筷子Ti Folding Spork水袋 : MSR – Dromedary Bag 10 L枱仔:Snow Peak – Ozen風褸:Peak Performance – Woman Nominal Jacket帽: Slow shop -螞蟻漁夫帽頭燈:Zebralight – H50Coleman LED Micro Quad LanternFirst Aid KitAQUIS Adventure Towel S size手提小風扇相機:Minolta – Autocord RG3相機: Olympus – XA腳架:Slik – Sprint mini gm!
By Vincent (bbyellow):
Boreas buttermilk 40:  2011 成立既新品牌, 已經獲得backpacker's gear guide 大獎, 橙灰色既設計正好適合夏天! Nemo obi elite: 最喜愛既單人營, 輕, 收藏體積細, 中間出入. 營內空間亦足夠.國產懶貓silnylon 天幕: 平, 輕, 收藏體積細.Helinox passport trekking pole: 用dac 更加放心Neoair xlite: 比舊款更輕更細更保暖Pacific outdoor equipment tropics sleeping pad: 於夏天時份配合neoair xlite 上使用, 網狀既設計, 更加涼快, 更加舒適絲質睡袋: 質感舒適, 亦提供輕度既保暖Klymit cush pillow: 多變既設計, 適合唔同人仕使用Primus omnilite ti: 鈦, multi fuelEvernew ceramic coating cookset: 易潔, 粉黃, 粉紅, 粉藍色設計, 夏天就是要多一點色彩Dinex 笑臉杯Uniflame 新匙Crazy creek hex 2.0 original新版比1.0 更舒適, 亦配有鮮艷顏色輕, 抗磨, cutting 舒適Arcteryx velox crew著過最舒服既tech t, 輕, 非常排汗, 快乾, 多色, 筆者同系列有接近十件Arcteryx beta flGtx active shell, 輕, 細, 非常透氣, 十分適合山上多變既天氣Zpacks cloudkit為下半身提供足夠既防水, 亦不失涼快Haglofs kobbe防滑鞋底, sole footbeds 更加切合腳型頭燈usb 叉電設計仲有個喇叭仔細, 可以插卡, 有收音機, 音質合理地好。
By Jason:
Backpack: Picharpak Workshop BP02 prototype, 35LTesting out is it a good size pack and refine it's function designSleeping: Therm-a-rest Neo, Coocon Ultra light pillow,This sleep combo was my best favor at this momnetShelter: Integral Sliwing + bugs netSummer no need a tent la, a tarp and a bug net keep you cool and enjoy the naturePole: Ti Goat carbon pole + camera mountI like it have a camera mount on top of the pole so no need to bring extra tripod!Camera: X10 FujiNice color and not weight as a DSLR~~~~Kitchen: FGS TI Rocky , DIY alcohol stove, FGS Ti double wall cup, Snowpeak Ti Fork spoon set, fuel bottles, SOTO Pocket Torch XT, Evernew Titanium DX Stand, Carbon table, Evernew 0.9L water bagSince the foods cooking only require hot water so the kitchen gears are less!Towel: Finetrack Nano towel S + Snow Peak OshiboriFinetrack for Morning and night cleaning highly recommended!Snowpeak Oshibori, handy wet towel during hiking.Light source: Zebra H313 stages light level adjust little headlamp!Food: NISSIN ECO CUPNOODLE, 麻婆なす丼, アマノフーズ おこげのスープ(soup), ALPCHEF(山之厨) riceSimple meal, summer hot, not really eat a lot~~!Jacket from Japan 200g,shorts:Finetrack(STORMGORGE HALF PANT),Waterproof summer 1/2 pants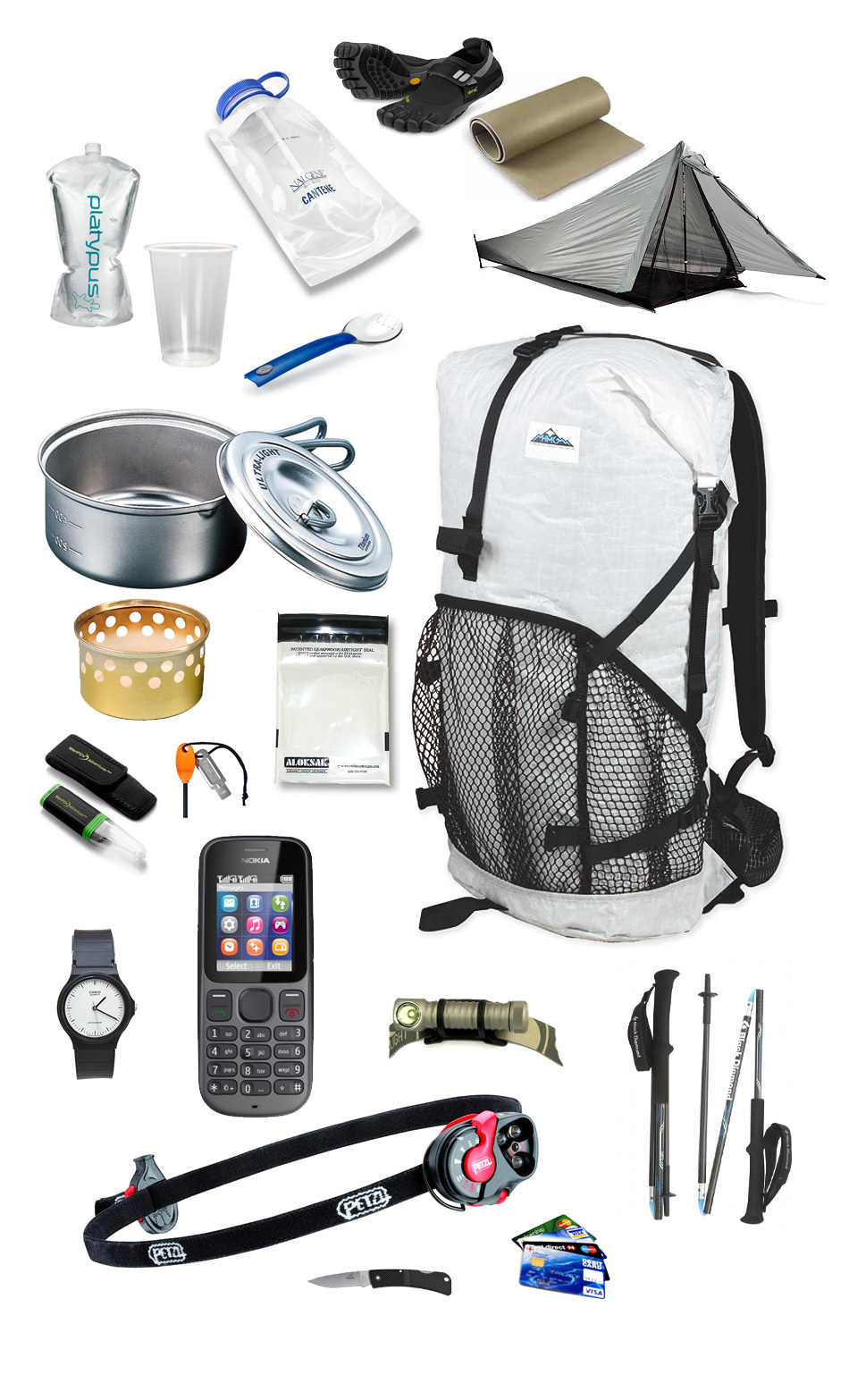 By Terence: 
Petzl – E LiteZebralight – H600W HeadlampPlastic 450ml cupGSI SporkEvernew – Ultralight ECA 252DIY Super Cat StoveLightmyfire – Fire Steel MiniSteriPEN – Adventurer OptiNalgene – Canteen 1LPlatypus – Platy 2LHMG – WindriderTarptents – ContrailGerber – Ultralight BlkBD – Ultra Distance (110cm)
By Tara:
Laufbursche huckePACKPiCharPak 1P Spin TarpASI Design BivyMontane Fireball Jacket sampleNemo Zor ShortJetboil Sol TiUCO Mirco Candle LightExped PillowID Thru Hiker JacketBD Ultra Distane PoleSigma DP2First AidHeadlamp ZebralightEvernew Waterbag 900MLPlatypus Waterbag 1.9LKupilka 21Snow Peak short sporkMSR ultralight TowelSuunto Vector8 Ti StakesFoodBackup Clothing
By Perry:
Montane Medusa 32Lite-Speed Jacket,OtusLite SummerCampact TowelSTL 2.5GSI Halulite MicroDualist火楓FMS-116TLuxe金仔! 搵唔到個名!Casio PRW-1500TJ-7題目: 門市貨品裝備以輕為主, 以及所有裝備能在兩間店鋪就可買齊。是一般人行戶外店都可輕易找到的貨色。在夏日, 經常會落大雨,所以所有的裝備都是防水的,以及是方便清洗的裝備,不需要花太多的時間洗及干,免了家人的痛苦!
PS.: 圖文各文字歸各作者或品牌所有。