After reading Ryan Jordan's article on BPL which is about Tarp Camping. A very good article sharing his experience on tarp camping, learn a lot from that and one thing come to mind is I have to get a square tarp too. So let's get start with tarp camping, I love pyramid tarp, trailstar, catenary cut tarp but didn't have a flat square tarp. A flat tarp should be really good help in many weather condition then a catenary tarp.
Finish at mid-night and quick pitch at the living room, luckily the shape cut is good! As I am lazy to illustrate the pattern and afraid the shape will not prefect.
I planning to make my own tarp, thinking the materials no more cuben and I don't have enough cuben fiber on hand. So thinking other lightest options and few weeks ago I got 7meters korea made 15D double silnylon from the factory. I have to try it out! A square flat tarp looks more easy to make then a catenary cut, spent 1 night for  the pattern and cutting all fabrics. Sewing also for 1 night around 5 hours.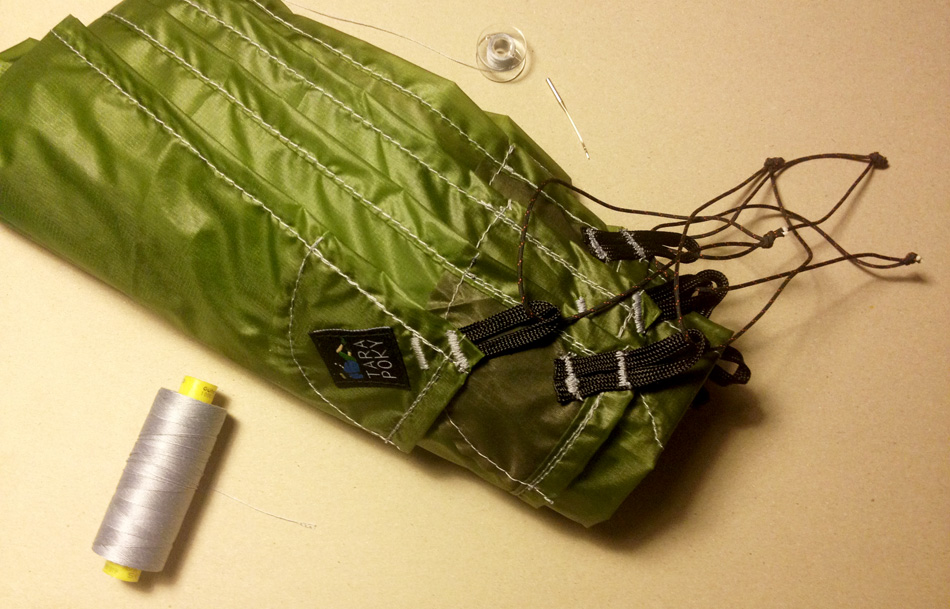 A 2.4m*2.4m flat tarp, without guy line weight 234g.
Using #50 thread, #14 needle and teflon foot. No plastic adjustment parts in this project, all using nylon flat cord as the loop(photo above). Total 20 tie outs, 4 corners, each side 3 tie outs  and 4 on the surface of the tarp. Reinforced fabric using 33D silnylon and the front & rear using DxG and with X-Boxed sewing method.
The glow orange spectra guy line looks nice! With this guy line system, 1mm for side tie out , 1.5mm panel tie out and 2 mm for font, rear and corner loop. Whole set weight 25g and 6g for extra extend guy line.
This is a quick myog project, I found that the most important thing is illustrate the pattern on the fabric must be correct. More photos and field test coming weekend at GO OUT3CAMP. I will share more feedback on this myog project next week, enjoy!